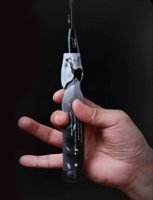 Experience the only unique patented badminton racket grip in the world! These are scientifically designed and developed rackets available in different sizes as per different age groups.
The unique grip enables amateurs and professionals to perfect their techniques, helping them enhance their backhand and forehand strokes manifold.
The racket is created by ex-world champion Xiong Guobao, also famously know as The Backhand King.
The SFX Model is designed for adult player.
* Package includes Training CD by Coach Xiong Guobao.
Thwack SFX 5000 Specifications

Frame Meterial:

High Modulus Full Carbon Graphite

Shaft Material:

Full Carbon Graphite

Flex:

Medium

Weight:

85 +/- 2g (4U-G2)

Length:

675mm

Max Tension:

30lbs

Balance:

290 +/- 3mm

Grommet:

76 Holes

Model:

SFX R1.7 (Adult, Right-Handed 1.7m)
Special Features

Isomectric head frame

Equalizes the length of main and cross strings in the stringbed, enlarging the sweet-spot for more consistent accuracy even on off-center hits.

Patented Racket Grip

The unique grip enable players to perfect their techniques and greatly enhance the backhand and forehand strokes throught the muscle memory concept.

High Modulus Carbon Graphite

HMG racket provides strength and stiffness, minimizing head deflection. Which helps to prevent twisting of the racket head when the shuttle impacts outside the sweet spot of the racket head.

76 Grommets system

This single-pass grommet holes construction provides more grommet holes, creating a high-performance stringing pattern that puts 7% more durability.
Click Here for more info!